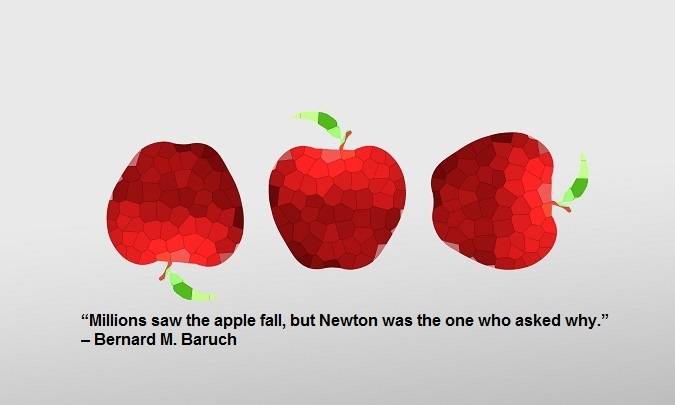 Got a little Newton in you? Wondering why some insurance marketers fail while others wildly succeed? Wonder no more! HubSpot's "State of Inbound 2015" report is hot of the press, with answers to the most daunting inbound marketing questions. If you'd like to avoid reinventing the marketing wheel, there are a few things you should know.
For starters, how exactly are the companies with the highest ROI succeeding? According to the report's findings, the inbound marketing smart kids do these five things:
1. They get more ROI from inbound efforts than outbound efforts. This was true across the board, for big and small companies with large and miniscule budgets.
BITE OF KNOWLEDGE: "Companies are 3X as likely to see higher ROI on inbound marketing campaigns than on outbound."
2. They resist the quick-fix allure of paid campaigns, and hold the inbound course with tried and proven practices that build engagement and profit over time. Paid campaigns can include print, outdoor and broadcast advertising as well as paid online advertising.
BITE OF KNOWLEDGE: "Fifty-seven percent of respondents from companies that saw greater ROI in 2015 than 2014 cited paid advertising as the most overrated marketing tactic."
3. They diligently track their marketing results, and because of their ability to prove year-over-year improvement, they are rewarded with increased budgets.
BITE OF KNOWLEDGE: "Respondents were 20% more likely to receive a higher budget in 2015 if ROI was tracked in the first place, and twice as likely to see an increased budget if that tracked ROI was shown to be higher than in 2014. What's more, respondents were nine times more likely to receive a lower budget if they failed to demonstrate a positive ROI."
4. They publish a lot of high quality, original content, leveraging in-house expertise and outside resources. Common content sources include staff, executives, freelancers, guest writers from related industries and agency partners. They don't make content development the sole responsibility of one person.
BITE OF KNOWLEDGE: "The most successful marketing organizations launch a balanced attack on churning out compelling content."
5. They check their analytics at least three times a week. Let me say that one more time: Three. Times. Every. Week! Why? Because as we learned in point #3, if you pay attention to what matters, you can create real, measurable results!
BITE OF KNOWLEDGE: "Respondents who achieved greater ROI in 2015 than the previous year were approximately 20% more likely to check their marketing analytics three or more times per week (or have someone on their team do so)."
Now that you know what the inbound marketing smart kids have going on, there's only one thing left to do … apply their strategies at your company!
For more insurance marketing ideas, download our Inbound Lead Generation "how to" report. And, while you're on the quest for greater knowledge, download the full "State of Inbound 2015" report below.