Insurance Social Media: LinkedIn – Why and How
17 February, 2012

With more than 150 million members and all of the Fortune 500 represented, LinkedIn is the top business networking site. LinkedIn gives insurance businesses the opportunity to:
Tell your company's story.
Highlight your products and services.
Share recent news.
Improve SEO Value: having a LinkedIn company page makes it easier for people to find your business online and increases your SEO.
Generate leads.
Engage with followers.
Share career opportunities.
LinkedIn Personal page VS LinkedIn Company page –
You may be one of the 150 million that have a LinkedIn personal page and know the benefits of networking with professionals, potential customers and employees but if you haven't created a company page, you're not using LinkedIn to its full potential. Personal pages and company pages serve different purposes. Your personal page is about you – your photo, contact info, work history, and recommendations. Your company page is your corporate identity – a place to showcase your business, logo, products and services, and career opportunities.
In order to create a company page, LinkedIn requires that you have a personal page with an email address that matches your company domain name. If you don't have a personal page, go to LinkedIn to create one.
LinkedIn Company Page Features:
Overview tab - Introduces viewers to your company, your blog posts, Twitter feed and who in their network works at your company.
Products and Services tab - Showcases your products & services, customer recommendation and connections to the members making the recommendations.
Career tab (requires a paid subscription) - Promotes your job openings (with more content about jobs, your brand and your employees than typical job websites) to the over 150 million LinkedIn users.
Employee tab - Highlights the company employees, including job functions, educational background, and experience.
Analytics tab - Helps you understand who your followers are, who is viewing your page, and what content appeals to them. This tab is only visible to administrators of your Company Page.
How to Create a LinkedIn Company Page
From your personal page, click on Companies in the top navigation bar. Click on Add a Company link found in the upper right area of the page. Here is the information that you'll need to set it up:
Company Name - Make sure the company name listing matches the name you use in your profile. (If you use LLC or Inc. on your personal profile, your company site must be the same).
Administrators - LinkedIn wants you to designate who will administer your company page. You can choose either all employees with a valid email address registered to your domain or designated users only.
Logos - Logos can be uploaded as a standard logo and as a square logo that will be used for updates.
Company Description - You have the opportunity to describe who you are and what you do.
Specialties - Include keywords that describe what you do in this section.
Twitter and Company Blog RSS Feed - LinkedIn has an Add an Application tab for your Twitter updates and blog feed that keeps your company page relevant and current.
Company Type, Size, URL - Select from the options that describe your company type. Your company website URL link can go to your home page or to a services page.
Industry, Operating Status, Year Founded - Choose your industry from the LinkedIn categories. Add operating status and the year founded.
Locations - You can list up to five different location addresses.
Careers - The option to promote job openings is available with a paid subscription.
Account & Settings - This section allows you to choose how your information is displayed, how you want to be contacted, and your overall privacy preferences.
Promote your LinkedIn Company page
Connect.

The Add Connections button on your profile will give you several ways to add and find connections. These connections are visible to everyone on your connection list unless you choose to hide them in your settings. To hide or not to hide? It is a personal preference – you have to choose what is best for your business. For more insights read Do You Hide Your LinkedIn Connections?
LinkedIn Groups may be one of the most powerful aspects of LinkedIn for companies. It gives members the opportunity to create and manage groups focused on a wide range of business-related subjects and is a great way to find other members with similar interests. See 10 Reasons to Start a LinkedIn Group for more information.
LinkedIn Answers showcases your knowledge, expertise, and interests by asking and answering questions to your network. For more information of Groups and Answers see 4 Pillars of LinkedIn Marketing for Businesses (Social Fresh)
Link. Use the Add an Application option to link to your blog and Twitter feed.
Promote. Ask for recommendations and post them - it's a word of mouth promotion to over 150 million professionals. *
Follow. You can add a follow button to your website or blog and add a "follow our company on LinkedIn' in your signature line and in other promotional materials.
Need a LinkedIn bio? Go to our excecutive biographies page to learn more.
Want to know more about how social media can drive your business results? Get our all-new free report, "Lead Generation Lessons for Insurance Marketers - The Power of Blogging and Social Media."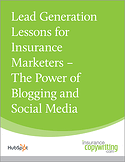 Resources:
LinkedIn - Learning Center and Tips for Engaging Your Followers
*Everything You Need to Know About LinkedIn Recommendations