B2B Social Media: Dos and Don'ts
19 January, 2023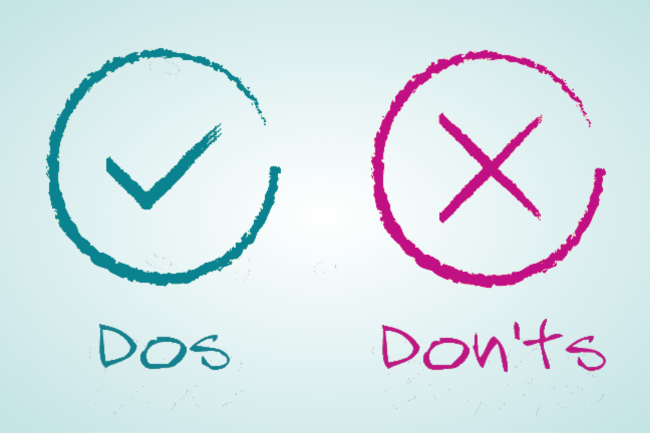 Your digital strategy can have a major impact on your company's success. Gartner predicts that, by 2025, 80% of B2B sales interactions between suppliers and buyers will occur in digital channels. B2B buyers already devote 27% of their time to researching online. In comparison, they only spend 17% meeting with potential suppliers.
Social media is a critical element of digital communication. This is especially true at the beginning of the buyer's journey when prospects aren't familiar with the company yet. Social media can help increase awareness of your brand, start forging relationships, and build trust.
Dos and Don'ts of B2B Social Media
Most companies have some social media presence, but that's not enough. To leverage the true power of social media and gain an advantage over your competitors, you need an intentional social media strategy that integrates the following Dos and Don'ts.
DO use LinkedIn. LinkedIn may be less exciting than TikTok, but it's where the B2B buyers are. The 2022 Social Media Marketing Industry Report from Social Media Examiner shows that LinkedIn and Facebook contribute the most leads for marketers. However, a deeper dive into the data shows there are important differences for B2B versus B2C marketing. For B2C marketing, Facebook the most important social media platform, whereas LinkedIn earns that title for B2B marketing. Additionally, 54% of marketers plan to increase their organic activities on LinkedIn over the next 12 months. LinkedIn says four out of five of its members drive business decisions. You want to go where your audience is – and for B2B marketing, that's LinkedIn.
DO offer team members professional photos to use on their profiles. At the very minimum, you should create a suite of branded profile background images and ask your executive team and customer-facing employees to use them. If you want to take your professionalism to the next level, also schedule a headshot photography session in your office once a year.
DO provide profile development support for your team. You want executives and customer-facing team members to have professional profiles, but many of them don't know what to do or where to start. Encourage your team members to collaborate with a profile creator (either in-house or outsourced) to help everyone feel confident.
DO create a company LinkedIn page and post consistently. Your company LinkedIn page is like a mini website or a digital storefront. Many potential employees and business prospects will view your company page before they see your website, so make that first impression count. Use a branded image and complete all sections. Add links to your website and contact page. Upload articles and resources.
DO provide posting support for your team. Employees will need to do their own liking, sharing and commenting. That said, you can provide a baseline of posting support. For example, if your company's blog article is going to be promoted in LinkedIn, you can easily connect employees' accounts to your social posting tool (with their consent) so their feeds also receive the post promoting the blog article. This can also be done when sharing product rollouts, announcements and industry-relevant third-party articles and research.
DO encourage employees to spend 10 minutes per day connecting with industry colleagues, prospects and customers and following their companies. The goal is to build your company's reach so more people see your content. This will make your social media efforts infinitely more successful. You won't make progress if you are sharing content with the same 50 people every week! Also, train employees to check their LinkedIn notifications at least once a day. There's nothing worse than not getting back to someone who reaches out. Share this 10-minute LinkedIn Action Plan with your team.
DO publish a social media policy and make it part of your new employee onboarding process. Are there recommended standards for LinkedIn profiles? Are employees encouraged to post on behalf of the company? Does content need to be approved first? Establish social guidelines so everyone knows your expectations.
DO be active. Hootsuite researched the optimal social posting frequency for businesses to maximize their results without annoying their audience. They found that on Instagram, you should post a lot: three to seven times a day. On LinkedIn and Twitter, you should post one to five times a day. On Facebook, only post once or twice a day. If posting this much sounds like a drain on your resources, don't worry – there are ways to reduce the burden. For example, you can use tools like Hootsuite and HubSpot to schedule your posts in batches. Also, any amount of consistent activity is better than none at all. Many of our clients get results by posting to LinkedIn two to three times per week.
DO share information from other sources. Some companies make the mistake of only posting self-promotional information. But B2B decision makers don't spend time on social media to view ads – they use social media to make connections and learn new things. They want to see breaking news, useful tips and industry research. Curating and sharing industry content from other sources can be a great way to round out your feed. Just be sure to share by using the original publisher's link so they get credit for the information and you don't infringe on anyone's copyright.
DO leverage LinkedIn groups. There are Groups for various industries and professional interests. Many Groups have 5,000 member or more – all within a target industry like employee benefits or claims. Once you join a Group, you can post content. This is another important and free way to exponentially expand your reach, raise awareness of your brand, and increase traffic to your website.
DON'T stop with third-party content. Some companies make the mistake of only sharing others' content. If your social posting goals include driving traffic to your website, you won't get there by only sharing others' content. To drive traffic, you need to post content that drives users to your website and puts them into your sales funnel. You can do this by posting infographics and links to your blog articles, case studies, white papers, and other resources.
DON'T measure success based on likes. For personal social media, success involves getting likes and shares. Of course, that type of engagement is nice in business too – but it's less likely. In reality, business people are most likely to share inspirational quotes and employee announcements – and those types of posts don't drive a lot of business. In corporate social media, the most important metrics (in our opinion) are the number of socially sourced website visits, form conversions and customer conversions. Both Google Analytics and HubSpot Analytics separate your traffic data by source type. If you're not already paying attention to those numbers, you'll want to start.
DON'T post only to your company page. Keep your company page active by posting regularly, but don't make it the only place you post. Your employees should also be part of your social media strategy. Since some users are more likely to follow individuals than companies, having your employees post content on their profiles is a great way to increase your reach. If your employees don't have time to post every day, you can schedule posts for them, with their permission. (See the "DO provide posting support" bullet above for more on this topic.)
DON'T give up. B2C companies often aim to create posts that go viral. For B2B companies, though, the situation is a little different. B2B buying decisions tend to be the result of a long process, often involving multiple decision makers. To succeed with B2B social media marketing, you need to develop trust that will serve as the foundation of a long-term relationship. It's not just about having one killer post – it's about having a continuous, strategic presence.
One More Tip
There's one more thing you can do to boost the success of your B2B social media campaigns: Outsource your company's social writing to a service that specializes in your industry.
Inbound Insurance Marketing provides social post copywriting and curation as well as social scheduling for LinkedIn, Twitter, and Facebook.
As with all marketing, consistency is key. We provide a solid social content foundation for clients so they know, for sure, that a compelling mix of posts will go out every week. With IIM handling the weekly posts, customers are free to focus on the personal side of their social media strategies – making connections, responding to comments and engaging with others' content.

Interested? Start a conversation.