Insurance Campaigns in a Box
A campaign in a box is the perfect way to support insurance agents. Provide everything your advisors need to launch a successful campaign.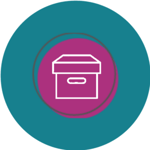 As experienced agents retire in high numbers, insurance organizations are facing a talent crunch. They need to recruit new agents and empower them to succeed, but many of these new agents don't know how to launch a powerful campaign. They need support. They need a campaign in a box.
A campaign in a box includes all of the materials that go into a campaign, from sales letters and email templates to client handouts and social media posts. It also includes step-by-step instructions on how agents can leverage these sales tools for maximum effect.
When your agents succeed, you succeed, so give your agents the tools they need.
How to Empower Your Insurance Agents with a Campaign in a Box
Imagine you're a new insurance agent. You've just earned your license, and you have big dreams of helping clients and earning top commissions. Now you're ready to get started… but you don't know where to start. After a few months of failed marketing attempts and meager sales, you begin to wonder if you're really cut out for an insurance career.
The failure rate for new insurance agents is high. If insurance organizations want to avoid scenarios like the one above, they need to help new agents find their footing. Even experienced agents can use some support since developing sales materials from scratch can be time-consuming.
Provide your agents with the sales tools they need – and turn every agent at your organization into a high-performing producer.
Step One:

Pick a theme. Your campaign needs focus, so you need to decide what that focus is going to be.
Step Two: Work out the game plan. Consider how long the campaign will be, how many pieces of content it will need and how the individual elements will fit together. To maximize success, you'll want to give your agents step-by-step instructions on how to use the marketing materials you're providing. This is especially important for a multi-week campaign.
Step Three: Develop your materials. You can't create a campaign without sales tools. Create a variety of materials, and pack them with eye-catching visuals and attention-grabbing statistics.

Step Four:

Generate excitement about the campaign in a box. You want your agents to use the materials, so raise awareness of the campaign and build excitement. You can send them emails, write a blog post and create a landing page on your website to highlight the campaign.
Example One:

A One-Shot Campaign in a Box

A campaign-in-a-box can be short and sweet. For example, let's say you're selling life insurance, and Valentine's Day is approaching. You want to provide a Valentine-themed campaign.

Your one-shot campaign in a box should include the following:

An email template or sales letter that agents can customize with their own information
An infographic or handout that agents can attach to emails or print and hand out in person
Two to four images that agents can post on social media

Example Two:

A Multi-Week Campaign in a Box

Some campaigns are more ambitious. A multi-week campaign in a box covers everything agents need to launch a campaign over the course of four weeks or so.

Your multi-week campaign in a box should include the following:

A broad campaign that's broken down into different sub-themes for each week
Step-by-step instructions on what agents need to do each week
All the sales tools agents need to carry out the campaign
Frequently Asked Questions About Campaigns in a Box
What type of organizations should provide a campaign in a box?
Carriers, FMOs and wholesalers can all benefit from offering campaigns in a box. If your organization depends on the success of individual agents, this is something you should consider.
What types of sales tools should go in a campaign in a box?
A strong campaign should include a variety of highly visual sales tools, including:
Sales letters that agents can customize, print and mail
Prospecting emails that agents can customize and send
Images that agents can post on social media
Client handouts and infographics that agents can print or send electronically
Product information on the insurance products you offer
What's a good theme for a campaign in a box?
For a campaign to be cohesive and make a strong impact, it needs to have a theme. Holidays often make good themes. For example, you could create a scary stats campaign for Halloween. Likewise, you could create a theme around a season or seasonal concept, for example, spring cleaning or summer vacation. Other campaigns might focus on a specific segment, such as women, self-employed workers or Millennials. A campaign could also focus on current events or trends, such as a health insurance campaign for employers that focuses on employee wellbeing, or an auto insurance campaign that focuses on safety in light of rising traffic fatalities. The possibilities are endless.
Should our campaign in a box have our organization's branding?
This question is debated. Organizations often prefer to brand their sales materials because they want to raise brand awareness. Agents often prefer unbranded sales materials because they want to focus on adding their own branding. If you provide branded materials that agents don't like, they may not use them, and that's a huge waste, so consider whether branding is really worth this risk.