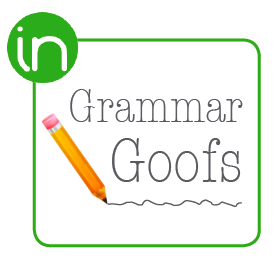 We had an exciting day in the office a couple of weeks ago. The new Associated Press Stylebook arrived in the mail. It is always interesting to see the changes with each new edition. Will there be new sections? Which words will be added or changed?
This year, the world of journalism was shocked, and some were appalled, when AP declared "underway" is now one word. Wordsmiths have been upholding the term as two words since the beginning of the English language, or at least it seems that way.
Other new editions to the stylebook are sections on social media, fashion and food. What does that say about today's society?
This month, instead of handing out grammar lessons, we're giving you a few insurance marketing references you can rely on when in doubt.
The Associated Press Stylebook: Though there are other style guides out there (Chicago Manual of Style, The Oxford Guide to Style and Modern Language Association to name a few), AP is the journalism standard used by many print publications and in broadcasting as well as public relations. You can't go wrong if you use AP style. There are print versions updated annually, a smartphone application and an online subscription version.
Webster's New World College Dictionary: There are many dictionaries out there, including even urban and slang dictionaries. How do you know which dictionary you can rely on for the most current and correct definition and spelling? Well, you can always count on good, old Webster. This is the most recommended choice for spelling, style, usage and foreign names.
http://www.merriam-webster.com/
Need to know a company's formal name? Consult the New York Stock Exchange or Nasdaq.
https://nyse.nyx.com/ or http://www.nasdaq.com/
Need business information? Try Captial IQ, which is a division of Standard & Poor's.
Do you have a federal government question? Try the Official Congressional Directory. This website is the official directory of U.S. Congress.
http://www.gpo.gov/fdsys/browse/collection.action?collectionCode=CDIR
Now you're equipped to go forth and engage your market with effective insurance communications! Need more helpful resources? Make sure to subscribe to the Insurance Marketers' Blog in the top right corner of this page.