Blog Writing: Is Originality Really Necessary?
21 June, 2017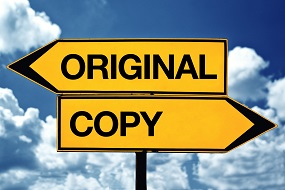 Many of you have access to pre-written industry articles through your insurance software provider and other "canned" sources. It seems pretty simple – you just browse article titles, pick a topic, download and post.
But is this a good way to populate your insurance blog? This is a common question that we are asked frequently. After all, why pay for original content to be developed on your behalf if you can get pre-written content more cost-effectively?
To answer that question, it's helpful to look at your website and its content from a few different angles.
First, look at your website goals. Most companies' websites and blog articles serve six key purposes:
To engage and convert site visitors
To convey a unique personality or philosophy
To differentiate your company from its competitors by showcasing unique knowledge
To build website search engine optimization
To fuel social media efforts
To build thought leadership and industry prominence
Now, let's look at the types of insurance articles available for purchase. They generally fall into two major categories:
Original content for which you own the copyright
Stock content which can be purchased and posted by whoever wants to buy it
Finally, let's look at what each of the types of articles can achieve for you:
| | | |
| --- | --- | --- |
| | Original Content for Which You Own the Copyright | Stock Articles that Any Company Can Buy and Use |
| Engage and convert site visitors | Yes | Maybe |
| Convey a unique personality or philosophy | Yes | No |
| Differentiate your company | Yes | No |
| Build website search engine optimization | Yes | No |
| Fuel social media efforts | Yes | Yes |
| Build thought leadership and industry prominence | Yes | No |
Now that you see the difference, let's delve into the search engine optimization goal a little deeper.
Every time you publish a new page or a new article on your website, you broaden your Internet footprint and increase your opportunity to rank for desirable keyword phrases … if your article/content is original (not found elsewhere) and written in a purposeful way that optimizes off-screen and on-screen copy to improve its odds of being found.
If you publish duplicate content, you don't build your search engine rankings. In fact according to Google's Matt Cutts, duplicate content is clustered and treated as one piece of information so only the best source of the content achieves page rank.
Let's also take a closer look at the other objectives. What happens if …
A prospective client sees an article on your website that she already saw on your competitor's site? How do you explain the duplication?
A magazine editor sees your "stock" article and calls to see if he can publish it in a trade journal under your name? Will you explain that it's really a stock article that exists on 20 other insurance agency sites?
You and a key competitor are posting the same article headline out to social media?
These scenarios are not the end of the world, but they do position your company as "less than special."
Final thoughts:
If you care about search engine optimization, duplicate content is out of the question.
If your company offers a unique value proposition, it deserves to post unique content.
And, if you don't like to dress in the same clothes and wear the same hairstyle as all of your colleagues, maybe you shouldn't expect that of your insurance website.
At Inbound Insurance Marketing, blog articles are always original and once you pay for them, you own the copyright. They are never sold to another company. Contact us to learn more.