Corporate Blogging Best Practices
17 October, 2022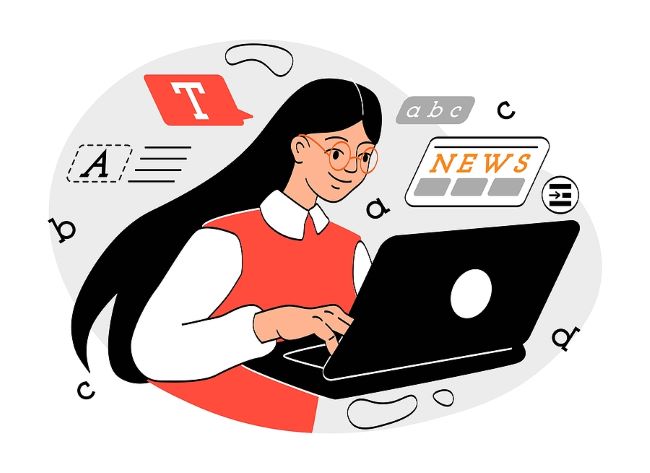 If you lack content on your website, your business may as well not exist – at least in the eyes of the internet. Content marketing helps boost your website in search results, develop authority and create brand awareness. However, setting up a blog and posting a few articles isn't enough. To see real results you must consistently execute corporate blogging best practices.
Why Should Corporations Have a Blog
Before looking at the corporate blog best practices, we need to be clear about why it's necessary for corporations to have a blog at all. There are actually a few reasons a blog is an essential aspect of any digital marketing strategy.
The first reason is that your blog will make a bigger difference to your SEO than having just a website. This is because a blog allows you to put far more content on your website, leading to more opportunities to use keywords and show search engines that you're an authoritative source of information. Content on a blog is also more shareable than webpages, which increases the chance you'll receive backlinks — another factor that contributes to SEO.
Blogging is also an effective way to increase your brand awareness and humanize your brand. Whereas the primary purpose of webpages is to sell, blogging gives you the chance to explore a variety of topics and ideas — from news to insights. By infusing your brand with your personality, you can earn visitors' trust and position your company as a source of reliable information about your industry.
Finally, blogging is a critical component of the nurturing process. If your company is selling products or services that have a long sales funnel, you can't expect users to convert after reading a single page of copy. Blogging starts the nurturing process by introducing your offerings and company. It can then take prospects through the buyer's journey by helping them compare your products or services to those of your competitors or by providing them with other information they need to make an informed decision. Blog articles often end with a call to action (CTA), offering a related and gated content download to generate a lead.
What Goals Can Blogging Help You Achieve?
By following corporate blogs best practices, you can achieve several of your business goals, such as:
Increase targeted web traffic. Using long-tail keywords to specifically target your audience will bring more traffic to your website and a greater number of users who are likely to convert.
Establish your corporation as a thought leader. By sharing your unique insights, you can frame your corporation as a thought leader in your industry.
Improve customer loyalty. Blogging isn't only for gaining new leads — it also helps you retain current customers. You need to stay relevant and top of mind to avoid losing customers to competitors. Blogging helps you continue to provide relevant information to customers on a regular basis.
How Often Should You Publish Articles?
It's crucial to stick to a regular publishing schedule with your blog — both to see benefits to your SEO and to ensure your audience knows when to expect a new article. HubSpot advises publishing anywhere from one to five times a week, depending on the size of your corporation and the main objective of your blog:
Small businesses looking to increase organic traffic should blog three to four times a week.

Large businesses looking to increase organic traffic should blog four to five times a week. (Some of these can be updated posts)

Small businesses looking to improve brand awareness should blog once or twice a week.

Large businesses looking to improve brand awareness should blog three to four times a week. (Again, some of these can be updated posts.)
While these recommendations are ideal, most insurance organizations are blogging one to two times per week in our experience.
Are There Any Tangible, Measurable Results from Blogging?
If you follow corporate blogging best practices, you'll see measurable results from your blog — in both analytics and sales numbers. For instance, OptinMonster reports that search engines index 434% more pages on websites with blogs than those without and corporations that have blogs receive 97% more inbound links to their websites. Furthermore, a HubSpot survey found that 56% of people purchased from a company after reading a blog post.
Is This a Trend That's Going Away?
Digital marketing is constantly changing. To stay ahead of the competition, you need to be looking to the future. With growth in channels like podcasting and video marketing, you may be wondering if blogging is a dying trend.
In fact, this just means digital marketing is diversifying. These other channels cannot replace blogging because of their limitations — including the fact that they're more difficult to scale, don't always reach the same audiences and don't drive as much organic traffic to your website. In fact, blogging often complements other marketing channels — for example, you can repurpose or share an article from your blog through another channel.
How Long Should Blog Articles Be?
Wix claims that the ideal blog article is between 1,500 and 2,000 words in 2022. However, you should consider this as a guideline rather than a rule, as factors like industry and topic also make a difference. It's more important to make sure you've covered all the key points and stayed concise than to hit a particular word count. Most importantly, you should never add fluff because you think an article is too short — this will only bore your readers and reduce the chance they read to the end.
Who Should Be the Stated Author?
Since your blog should be establishing credibility for your company, it follows that the author of the articles needs to be an authoritative source. The likelihood is that the top players in your corporation are too busy to write many (if any) blog articles, but this doesn't preclude them as authors. In fact, choosing someone with a job title that most closely fits the topic — no matter who actually ghost-wrote the article — may be your best option. Of course, if that feels uncomfortable, you can always post with a "team" as the author.
Should a Blog Be Part of Your Website or Separate?
Occasionally, companies set up their blog on separate website from their core website. We don't recommend this. A corporate blog should always be part of the company website for a few reasons:
The impact on SEO due to blogging will transfer to your website as a whole.

Users who come to your website will be able to find your blog and the top-of-funnel content it contains, easily.

After reading a blog post, users will be able to find information about your products, services and company on your website.
How Do You Develop an Editorial Calendar?
Having an editorial calendar will help tremendously in your blogging efforts. You'll have ideas for topics in advance and it will keep you on track with covering a wide range of topics and intentionally targeting different buyer personas at various stages of the buyer's journey.
You can create a content calendar in a spreadsheet, project management software or even an actual calendar. Make sure you include fields for the topic, due date, publish date, keywords, author and any specific requirements. Use this guide to get started.
Next, think about the goals of your blog and brainstorm some content ideas. Fine-tune these ideas by finding out what already exists online and what keywords your audience is searching for.
Finally, put everything together. Remember that your content calendar should be dynamic. For instance, if you want to cover a breaking news story instead of the idea you had planned, just update your content calendar and make it happen.
Should You Outsource Blog Writing?
Even blogging just once a week will take up several hours of your time. If you've determined that you need multiple blog articles each week, it may be impossible to manage all the writing in-house. Furthermore, to engage your audience, it's crucial that your blog articles are high quality — this means that if you're not a skilled writer, your business may lose credibility.
Outsourcing blog writing can solve all these problems. However, you will need to find a partner who has expertise in your field. For this reason, it's important to find a service that specializes in your industry and has an in-depth understanding of the topics you want to cover.
How Can an Outsourced Partner Keep Your Writing Goals On Track?
A reputable partner will never let you down. You should expect articles to be delivered on time and to require minimal revisions. Agencies are particularly dependable because they have multiple writers on their teams. If one person is unable to make the deadline, another can step in.
Many companies in the insurance industry receive blog writing services from Inbound Insurance Marketing. We follow corporate blogging best practices to optimize your results.
Choose the blog writing subscription that works best for your needs.