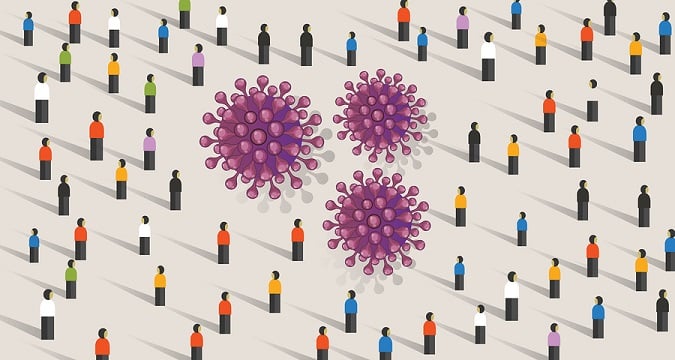 You've no doubt received multiple emails from various companies concerning their response to COVID-19. Although the onslaught of messages may seem a little overwhelming, there's a reason for all the digital communication. This is a turbulent time. The situation is changing by the day — even by the hour. Amid all the change, there's significant confusion and anxiety, so companies need to reach out to reassure their customers and workers.
Keep Sending Important Updates
Extreme safety measures have been implemented in multiple states as officials seek to curb the spread of the novel coronavirus. As a result, bars, gyms, theaters and other types of businesses are being ordered to close temporarily. Other stores and offices around the country are also closing their doors to the public, and many aren't sure when they will open again – any dates given at this point are tentative at best. Some businesses may be able to stay open, at least for now, though they may be sticking to drive-through or digital operations.
All of this means that there's a lot of confusion over what's going on, and the situation is still evolving. To keep everyone on the same page, you'll need a digital communication strategy to keep both your workers and your team members updated on the following:
Changes to your hours of operations and schedules
Closures of stores and offices
Cancellation of in-person meetings
Cancellation of events
Steps being taken to keep people safe
Create a Place Where People Can Check for Info
Although some updates will require emails, too many emails will cause people's inboxes to clog. It's also possible that some emails will get missed in the deluge.
Given this, it will be helpful to create a central location where people can go for up-to-date information when they need it. Consider setting up the following:
A message on the homepage of your website
A new webpage devoted to coronavirus information and business updates
Posts on all your social media channels
A pinned tweet on Twitter
A short message in your email signature, possibly with a link to more information
Send Personalized Messages
Major updates may require mass emails and posts on a website or social media, but some communication needs to be personalized. Send a personalized message to do the following:
Cancel or postpone appointments. If you had individual appointments scheduled and can no longer make these appointments, you should send out a personalized message. To ensure that the message is received, it's generally best to use the form of communication you normally use to contact that person, whether it's text message, phone or email.
Move appointments online. Instead of cancelling an appointment, you may be able to move it online. Contact the other person involved and see if this works for them.
Keep the Communication Going Both Ways
Communication should not be thought of as a one-way street. You need to keep communication flowing in both directions.
Provide a good way for people to get in touch with you. This may be a number they can call or text or an email they can use to contact you.
How often you should communicate depends on the type of relationship you have.
For customers and clients you didn't have much communication with before all of this started, an occasional message and a way for people to reach you should suffice.
For clients you work with more closely, you may need to schedule regular check-ins.
When it comes to your team, constant communication is key. When you're working together in an office, it's easy to check in on each other and to ask questions, even if they seem minor. This can be done remotely, too, but it may take some adjustment.
As more and more people are ordered to stay home, feelings of confusion and loneliness may become common. Don't be afraid to reach out.
Working Remotely
Many people are now working remotely in order to maintain social distancing. For teams that aren't used to working remotely, figuring out how to communicate effectively can take some adjustment.
Get organized. As early on as possible, figure out which digital communication methods you'll be using. You may need to update the plan as the situation changes or as problems arise, but you want to be as organized as possible so that people know what to expect.
Communicate frequently. Don't just assume that everything's going smoothly. Check in daily to make sure of it. It is better to over-communicate than to under-communicate.
Create Digital Meetings and Events
People are being asked to avoid social gatherings. As a result, many conferences, conventions and other events have been cancelled.
In some cases, it may be possible to shift events and meetings to a digital platform.
Conferences and other events can be live streamed. This way, you can reach a wide audience while maintain social distancing practices. In fact, you may be able to reach a much wider audience that would have been possible with a in-person event.
Meetings can be held using video conferencing tools. This is possibly for meetings involving two people as well as larger meetings involving multiple people.
Digital Communication Tech Tools and Platforms
If you're not used to digital communications, you may need some new tools to get you through this difficult time. The good news is that there are lots of great tools to chose from. You might like these tech tools so much that you decide to keep using them even after the pandemic crisis is over.
Live Streaming: There are many platforms that let you live stream your events, including YouTube, Facebook Live and Livestream.
Video Conferencing: If you need to take a meeting online, there are many video conferencing tools that will make this easy. Popular options include Skype and Zoom.
Remote Work: If your team is shifting to remote work, a good system could make it easier to collaborate. Options include Slack and Microsoft Teams.
Regular Communication: Text, phone, email, instant messaging and social media are still good options for regular communication.
Whatever you do, don't go silent. Customers need to hear from you, now more than ever. If you need a partner to assist with your digital communication efforts, contact us.