Enlisting Your Team in Content Distribution
10 July, 2023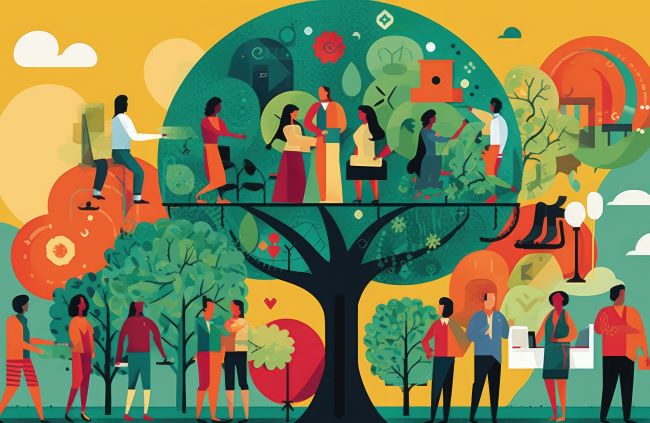 Your content strategy is only as strong as your distribution strategy. Unfortunately, distribution is the weakest link in many businesses' content strategies. You can squeeze more value out of your content by enlisting your team in content distribution.
The Internet Is a Crowed Place
Your content has a lot of competition. According to Internet Live Stats, there are more than 1.5 billion websites. Whereas the vast majority of these websites aren't your direct competition, they're still competing for users' attention. SEO can help bring organic traffic to your website. However, if you want to beat the odds and gain plenty of attention for your content, you also need an effective distribution strategy. This can include emails and newsletters, but it also needs to include social media.
Pew Research Center says 72% of U.S. adults use social media. The rates are even higher among young age groups. Although only 45% of people aged 65 and above use social media, 81% of people aged 30 to 49 do. If you want to spread your message to as wide an audience as possible, you can't afford to ignore social media.
Users Prefer to Interact with Other People
Many people follow brands on social media. However, it's the human connections that tend to drive social media engagement.
According to Sprout Social, 70% of consumers report feeling more connected when a brand's CEO is active on social media and 72% report feeling more connected when employees share information about a brand online.
Even when you're leveraging social media for B2B marketing, it's important to give your campaigns a human touch. By involving your team in your social media content distribution strategy, you can build stronger connections and boost social media engagement.
Your Team Members Are an Untapped Content Resource
To boost your content strategy, use your team members.
Content distribution. There's a good chance many of your team members have already developed a professional presence on their social media accounts. LinkedIn is the most obvious, but your employees may also use Facebook, Twitter, and other platforms professionally. Since your employees want to build connections and establish themselves in the industry, they may be happy to post content you create that helps them do that.
Employee engagement. Does it seem like one department at your company doesn't know what another is doing? This is a common problem, particularly between sales and marketing. Involving your entire team in content distribution is one way to spread your message throughout the company and boost cross-department employee engagement.
Content ideas. Don't stop with distribution. Your employees have unique perspectives, which you can mine for content ideas. Employees may even be able to provide you with detailed notes or rough drafts for content. Plus, they'll likely enjoy seeing their ideas published and celebrated at your company.
Make It Easy for Your Team
Content marketing is easily a full-time job – social media can eat up all of your time if you're not careful. Since your employees have other duties that demand their attention, you can't expect them to devote endless hours to your content marketing and distribution strategy.
Make it easy for your team members:
Help them improve their social media presence. For example, you could provide them with professionally-written biographies to use on LinkedIn. In addition, make sure they have good profile pictures and background photos. You can also make a professional writer available to help them spruce up their profiles.
Make sure they have access to your content. Don't expect your employees to find your content themselves (even though you should have social media buttons that make it easy to share directly from your website). Content Marketing Institute has nine ideas for internal content distribution, including internal newsletters, content repositories, and the LinkedIn notify-employee features. These strategies can also boost company-wide collaboration.
Give them ready-to-go social media posts. Many people want to post on social media but don't know what to post. Write social media posts that employees can just copy and paste. Since images drive social media engagement, include eye-catching visuals.
Offer to schedule social media posts for them. Scheduling posts means employees won't need to manually post every day and it eliminates the risk they'll forget to post for an extended period of time. Of course, they can (and should) still log in occasionally to interact with others on the platform.
Do You Need Help Developing or Distributing Content?
Inbound Insurance Marketing can help with any of the tasks above. Contact us to learn more.
Before you can involve your team in your content distribution strategy, you need content to distribute. The type of content you need will depend on your business needs and goals. Download the Content Marketing Roadmap.