Our Picks: The 26 Best B2B Marketing Tools for 2022
26 January, 2022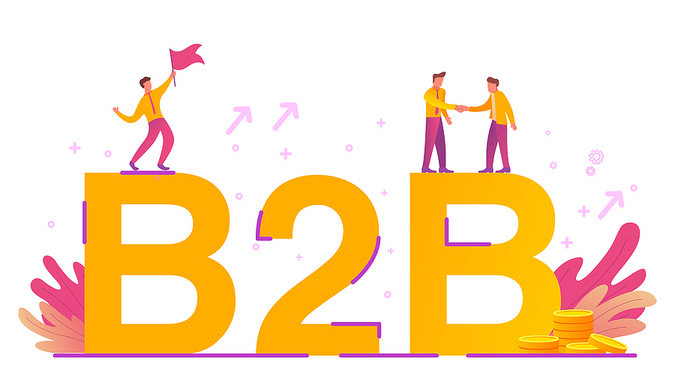 Most of the marketing buzz talks about reaching individual consumers. But what about those of us who are trying to reach other businesses? B2B marketing is its own ballgame — and we definitely need the right tools to land the best accounts! While there are too many great B2B marketing tools to list, here are 26 of our favorites.
For quick reference, click below:
---
The Best B2B Marketing Tools For Prospecting
---

Seamless.ai
What It is
Seamless.AI helps you reverse-engineer prospects' business addresses so you can run better outreach campaigns. You can plug in any social profile or company page, and Seamless.Ai will detect the likely email address for decision-makers.
How Much It Costs
The Basic plan starts at $147 per user per month and includes 250 credits. Each credit can locate one contact. For a higher prospecting volume, you can upgrade to Pro at $99 per each of 5 users, each with 1,000 contacts.
Why We Love It
It's such a pain to search for people's business email addresses. If you know the company's basic structure, e.g. FirstName.LastName@company.com, it's possible to guess. Otherwise, you might be struggling. Seamless.Ai makes it simple to get in touch with the best prospects at each company.
---

Outreach.io
What It is
A multifaceted prospecting and inbound sales platform, Outreach provides AI-powered tools to help your team refine their B2B messaging. It includes automated, cross-team workflows for sales reps and buyer intent evaluation that plugs into marketing campaigns. Outreach focuses on data-driven account targeting and sales enablement — leveraging your unique prospects' behavior to deliver highly relevant messaging throughout the pipeline.
How Much It Costs:
Outreach is priced on a case-by-case basis, depending on your business's needs.
Why We Love It:
We all know that B2B marketing works best when it's intricately customized and armed with real data — but that takes so much time to coordinate. Outreach blends powerful insights with automated workflows to help you nurture each prospect's unique buying journey.
---

Calendly
What It is
Calendly is a scheduling tool that allows one party to instantly book availability on another party's calendar. It also sets up recurring team meetings and auto-schedules sessions for your sales reps, depending on who's first available or in the best time zone.
How Much It Costs:
There is a free basic tier, but most businesses will need at least the Essentials tier, which starts at $8 per seat per month. For further automation, including integration with your CRM and email marketing tools, there are the Professional and Teams tiers, which are $12 and $16 per seat per month, respectively.
Why We Love It
Who wants to sift through a giant email thread to figure out when your prospect and all your team members are available for a meeting? Not us, that's for sure. Calendly makes it incredibly simple to coordinate multiple people's schedules and find the best time. It even auto-adjusts the time zone so you can easily schedule discovery calls with prospects wherever they're located.
---

HubSpot CRM & Marketing
What It is
HubSpot is a dual CRM and marketing automation platform. Yet unlike many tools that only process inquiries and send warmup flows, HubSpot gives you the opportunity to schedule discovery calls, send quotes, and track prospect behavior — all in one convenient place. Plus, it includes lead generation tools that will help you qualify your leads before you spend your time on them.
How Much It Costs
HubSpot pricing varies but generally depends on the number of contacts you need. For the marketing hub, the basic tier is $45 per month (when paid annually) for up to 1,000 contacts. You can add batches of 1,000 contacts for $45/month each. For the sales hub, the basic tier is $45 per month (when paid annually) for 2 users. Once you start adding customized sequences, advanced analytics, more automation features, and forecasting, expect to pay at least $450 a month. You can save money by bundling HubSpot's various services.
Why We Love It
HubSpot is the gold standard for data-driven automation of sales and marketing. You don't need to cobble together a bunch of tools and potentially lose prospects in the mix. With HubSpot, you can literally take them from initial inquiry to warmup emails to scheduling to closing — all in one place.
---
For Content Development
---

Jaaxy
What It is
Keyword research tools are almost as numerous as keywords themselves. But Jaaxy is focused on niche-based keyword targeting. While ostensibly designed for affiliate marketing, it works well for B2B content development as well.
How Much It Costs:
Jaaxy offers a free starter plan for up to 30 keyword searches. If you want more detailed results, including longtail queries, you'll need the Pro plan at $49/month. For even more power, you can upgrade to Enterprise at $99/month.
Why We Love It
Keyword research is notoriously tedious and, for B2B purposes, a bit hard to pin down. After all, Google search data isn't always a clear indication of what business owners are seeking. Jaaxy's niche-driven keyword results, domain evaluations, and site rank reverse engineering can help your team create the best content for your target audience.
---

Surfer
What It is
Surfer is an all-in-one content optimization platform. It collects content ideas for your domain, auto-generates outlines and SEO templates, and formats content for optimal results. With this tool, you can craft content that appeals to all your target audiences' niches, improving your Google ranking.
How Much It Costs
The Basic plan is $49/month for 10 content editors and 20 audits. The more you need, the higher the tier, up to $199/month for the Business plan.
Why We Love It
Creating SEO-friendly content that actually ranks is notoriously difficult. Surfer gives us the right data to craft content for our ideal audience's interests. Plus, we get the best topics, keywords, and structure to improve our chances of getting on Google's coveted front page.
---

Copyscape
What It is
Copyscape is a plagiarism detector and duplicate content search engine. You can use it to check your brand's content for plagiarism (especially if you outsourced the task) or to see if anyone has stolen your content for their own site.
How Much It Costs
In the premium version, which we recommend, searches cost 3 cents for the first 200 words plus 1cent for each additional 100 words.
Why We Love It
Your content is invaluable to your brand's authority and marketing efforts. You don't want anyone else to potentially profit off it! Also, you'll want to make sure your own content is 100% unique to boost your rankings and avoid any legal troubles.
---

Loom
What It is
Loom is a screencasting tool — and so much more. You can capture your screen and any gestures you make on it, as well as your own image while you explain something. It's ideal for product demos, virtual trainings, online courses, and more.
How Much It Costs
The free plan is fairly generous, allowing up to 50 "creators" with 25 5-minute videos per person. If you want more or to add captions and analytics, you can upgrade for just $8 per user per month.
Why We Love It
Loom is quite intuitive and seamless, making it an easy way to capture your screen and illustrate your ideas. It's a must-have if you're dealing with remote clients or team members who need engaging training content!
---

Rev
What It is
Rev is an automated transcription and caption-writing service. Using speech-to-text AI, it turns any video or audio file into a detailed text document. In a B2B context, this is ideal for auto-generating meeting notes, capturing client testimonials, or turning interviews into marketing content.
How Much It Costs
Rev costs $1.25 per minute for transcription or video captioning. If you need a foreign language translated, the cost ranges from $3 to $7 per minute.
Why We Love It
Our conversations with clients and stakeholders are invaluable sources of information, whether we're trying to close the deal or create an enticing lead magnet. Rev makes it easy to turn our video and audio recordings into ultra-readable, highly accurate transcripts.
---
For Team Collaboration
---

Asana
What It is
Asana is a project management app geared toward teams who need to work smarter, not harder. The platform includes goal-tracking, workload assessment, support tickets, automated workflows, task management, and meeting notes.
How Much It Costs
Asana has a free plan that will suit many teams. If you need advanced reporting, custom fields, forms, and some of the workload management features, you can upgrade to Premium at $10.99 per user per month, billed annually. There is also a Business plan that includes all the automation and goal-tracking features for $24.99 per user per month, billed annually.
Why We Love It
Asana is one of the most robust and customizable project management apps…and for B2B marketers, it can also serve as a CRM, client support system, sales enablement platform, you name it! Plus, it sends adorable narwhals, unicorns, and yetis across the screen when you complete a task. Who wouldn't love that?
---

Google Docs and Sheets
What It is
Google offers every basic type of business document, from standard docs and spreadsheets to presentations (slides) and collaborative notes. All these documents can be easily shared and reviewed by your prospects and clients.
How Much It Costs
All Google Docs products are 100% free.
Why We Love It
Instant file saving? Permission controls? Easy import and export? Simultaneous editing? The list is endless! These tools are worthy of any marketer's toolkit.
---

Dropbox
What It is
Dropbox is mostly a file-sharing platform but has evolved to include file showcases and collaborative documents.
How Much It Costs
Dropbox has a free plan, but for more storage and advanced access controls, teams can upgrade to the Professional plan at $16.58 per month, billed annually. Dropbox also adds document sending and signing capabilities through its integrations with DocSend and HelloSign. Prices vary depending on the bundle you choose.
Why We Love It
Let's face it: email is terrible for sharing and tracking files. Dropbox is an all-in-one solution for safely storing files, managing their access, getting them reviewed, and more. Plus, it's easy to use on virtually any device or operating system.
---
For Email Marketing
---

Send Check It
What It is
Send Check It is a subject line testing tool that lets you see how you can stand out in a crowded inbox.
How Much It Costs
Send Check It is totally free!
Why We Love It
It's easy to get a blind spot when it comes to crafting your subject lines. Send Check It is a great reality check that helps you see how you can differentiate your cold pitches and email newsletters from your competitors'.
---

Constant Contact
What It is
Constant Contact is a marketing automation platform that coordinates your email campaigns, social posts and ads, and ecommerce presence. It also offers event promotion, audience segmentation, and lead capture. The platform is geared toward bridging paid advertising with organic growth, making it ideal for B2B marketers.
How Much It Costs
The basic plan starts at $20 per month or $45 if you'd like all the automation features, but the price ultimately depends on the number of contacts in your list.
Why We Love It
This email platform is affordable, easy to use and a great tool for any company not sending emails through their marketing automation suite.
---
For Analytics
---

Google Analytics
What It is
Google Analytics is a robust suite of tools to measure your business website's performance, including traffic sources, most-visited pages, user demographics, and more.
How Much It Costs
Google Analytics is 100% free.
Why We Love It
It may have a bit of a learning curve, but even a newbie can log onto Google Analytics and immediately see which webpages are attracting visitors — and convincing them to stick around.
---

SEMRush
What It is
SEMRush is a beast of an SEO/SMM tool, offering keyword research, competitor analysis, content optimization, link building, PPC advertising, and AdSense/affiliate marketing.
How Much It Costs
If all you want is the basic SEO features (which are robust), SEMrush is $119.95 per month for up to 5 projects. The content marketing tools and higher keyword/page crawl volume come with the higher tiers, which run up to $449.95 per month.
Why We Love It
Optimizing your website to entice your best prospects is no small feat — especially when you're driving paid ads to it. SEMRush makes it relatively painless to boost your ranking and domain authority, both of which are crucial to your reputation in the B2B space.
---
For Social
---

Hootsuite
What It is
HootSuite is a social media scheduling and social listening tool. It also offers you the ability to run ads and sponsored content.
How Much It Costs
The Professional Plan is $49 per month for 10 social accounts. From there, there are multiple tiers depending on the number of accounts, up to $739/month for 35 social accounts.
Why We Love It
HootSuite covers all major social networks, including LinkedIn, Facebook, and YouTube. It's an all-in-one scheduling, analytics, engagement, and hashtag research tool. One particular nice feature for B2B marketers is the ability to target your LinkedIn posts to a given audience.
---

LinkedIn Groups
What It is
While not technically its own tool, we cannot overstate the importance of LinkedIn groups for B2B marketing. They are the best way to connect with your ideal prospects in a place where they'll be open to listening.
How Much It Costs
LinkedIn is free to use, although the Premium membership gives you more insights and connection opportunities.
Why We Love It
Social networks can be frustrating, but LinkedIn groups seem to come with a guaranteed engaged audience. The key is to find active groups with the right prospects for your business.
---
For Websites
---

Lucidchart
What It is
Lucidchart is a diagramming application. Ostensibly created to plan team workflows, it also serves well as a website mapping tool. It's super-easy to visually plan content and marketing funnels.
How Much It Costs
There is a free version, although it's quite limited in terms of how many documents you can create. Teams can create unlimited maps and charts for $9 per user per month.
Why We Love It
Many people are visual learners, which means it's not always ideal to rely on complex spreadsheets and giant documents! In the B2B space, your prospects are often pressed for time as well, so a visual presentation can get to the point. It's also crucial to streamline your website. Lucidchart helps you map out all of that.
---

WordPress
What It is
The world's most popular content management system, WordPress is an easy way to set up and customize just about any type of website.
How Much It Costs
WordPress is 100% free, although you may need to purchase premium plugins and themes, depending on your needs.
Why We Love It
Nothing compares to WordPress in terms of customizability and extendability. While it can have a bit of a learning curve, a WordPress-based website can be configured to do just about anything you want.
---

Unbounce
What It is
Unbounce is a lead capture and conversion tool, offering drag-and-drop landing page building, subscriber pop-ups, and trigger-based email and social messaging. It also includes an AI-powered platform to redirect leads to the ideal landing page with audience-specific copy.
How Much It Costs
The Launch plan is $90 per month for up to 20,000 visitors and 500 conversions for 1 domain. If you need more, the Optimize and Accelerate plans accommodate more traffic across multiple domains. They run $135 and $225 per month, respectively.
Why We Love It
It's tricky to make sure your prospects get the right message when they encounter your landing page. In the B2B space, that's especially important. Unbounce makes it a breeze to build and configure your funnels, then let AI do the dirty work.
---
For Presentations
---

Flipsnack
What It is
Flipsnack is a digital magazine platform that creates a "flipbook" style document full of photos, graphics, and text.
How Much It Costs
The basic plan is $14/month billed annually and includes up to 10 catalogs, 100 pages each. There are several more tiers, each with a higher number of catalogs and page counts.
Why We Love It
They say print is dead — but with Flipsnack, you can at least make it virtual. Designed to turn magazines and other book-like content into immersive digital experiences, Flipsnack is also a neat way to engage prospects in your pitch deck or longform content.
---

Zoom
What It is
Do we really have to explain? The quintessential videoconferencing platform, Zoom allows people to connect from around the world for discovery calls, meetings, trainings, webinars, and so much more.
How Much It Costs
Zoom is free for meetings with up to 100 attendees and 40 minutes. If you need more, premium plans start at $149.90 per year per license and include social media streaming.
Why We Love It
Zoom is not only a high-quality video meeting platform but also integrates with many different CRM tools. Along with robust screen-sharing tools and group chat, this makes it ideal for chatting with prospects and clients.
---
For
Events
---

Switchit
What It is
A self-described "digital business card," Switchit creates a professional profile that you can enhance with videos, contact options, and meeting scheduling. It also offers a central contact management platform where you can scan business cards, send messages, and update your pipeline.
How Much It Costs
The Free plan includes up to 4 digital cards and synchronization with Outlook, Google Calendar, etc. For advanced customization, more URLs and attachments, and sync with HubSpot or Salesforce, it's only $6.99 per month.
Why We Love It
Let's face it: everything is digital now, and print business cards are going out of style. With Switchit, you can make sure that you fill your pipeline… and get in your ideal prospects' pipelines as well! It's a neat tool that successfully combines personal landing pages with CRM functionality.
---

Printmoz
What It is
PrintMoz is a digital printing company that creates all sorts of custom signage, including retractable banners, A-frame signs, foam board posters, yard signs, floor decals, and more.
How Much It Costs
Prices vary depending on the size and material of what you'd like printed.
Why We Love It
Events wouldn't be suitable for B2B marketing without branded signage. PrintMoz makes it easy to get any sort of displays you need for your next conference, networking meetup, or pop-up event.
---

Displayit
What It is
Designed for trade shows, DisplayIt creates large-scale, immersive brand displays. We're talking about the type that people can take selfies in front of! They also create table covers, countertop containers and signage, and standing banners.
How Much It Costs
Prices vary depending on the size and material of what you'd like printed.
Why We Love It
The quickest way to be passed over at a tradeshow is to have a tiny booth with small signs. DisplayIt lets you go big and bold.
---
Conclusion
---
These are our favorite B2B marketing tools, based on their ease of use and potential to grow your business in 2022. Want more insightful B2B marketing tips? Subscribe to our blog. Need a listicle-style article for your own blog? Contact us.