The Ultimate Insurance Marketing Road Map, Part 3: How to Close More Sales
22 November, 2017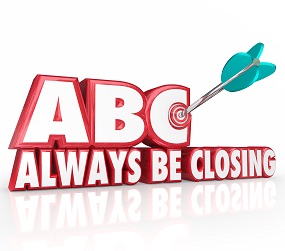 Today we're talking about closing. What does it take to move prospects beyond awareness and interest to the point of being ready-to-purchase? This is the million-dollar question, right? While every prospective buyer is different and there is no exact science, there are six things you can do to improve your odds.
1. Follow up – a lot. Prospects don't usually buy until they have to. In insurance, this means that the pain of staying with the existing insurance partner finally outweighs the inconvenience and hassle of switching to a new partner. The pain could be related to dissatisfaction with price, service or product offering. That said, you need to be top-of-mind on the day the prospect decides to buy. If he or she hasn't heard from you in the last three months, you probably won't be. According to a study by the National Sales Executive Association, 80 percent of sales are made between the fifth and twelfth contacts.
2. Use the blog/e-newsletter combo touch. Once prospects subscribe to your blog and/or newsletter, you have an easy way to communicate with them regularly. (No sales pitch!) Use a one-two punch to make the most of your efforts. Publish a new insurance blog article at least once a week. And then, send a monthly e-newsletter highlighting four blog articles at the end of each month. This process continuously brings prospective customers back to your website where they can rediscover all that you have to offer.
3. Automate your nurturing process. In addition, to general content, follow up on specific conversions, with an automated series of helpful nurturing emails. The emails should be personalized and relevant. For example, if a prospect has downloaded a report on work comp, follow up with other work comp related emails. Each email should remind the prospect of when you last connected and then offer a new tip or resource related to a topic of interest.
4. Make bottom-of-funnel offers. Within your automated email follow-up, include links to some bottom-of-funnel offers such as comparison sheets, ROI calculators, case studies and get acquainted kits. Reinforce the prospect's buying decision and erase any doubts that may exist.
5. Convey strong credibility. Credibility factors in your insurance marketing include financial stability data, customer testimonials, online business reviews, awards, rankings and memberships. You want to show prospects that you will be there for them over the long haul.
6. Incorporate risk reversal methodology. Risk reversal is difficult in insurance marketing, but if you think creatively, you may be able to come up with a few ideas. Essentially, this is the equivalent of the money-back satisfaction guarantee or trial period used with consumer marketing. Think about your prospects' fears and the issues that could be preventing them from going forward. Then, think about how to overcome those potential obstacles by removing the perceived risk.
P.S. – Did you see part 1 and part 2 of this insurance marketing series?